I am privileged to be the Principal of St. Mark's Catholic Primary School, a school whereby we thrive on our mission that:
'Proudly and joyfully, we love, live and learn as God's children'
Everyone at St. Mark's is proud to be a member of our school community; a community that holds Christ at the centre of all that it does. We proudly live by our gospel values, rooted in the teachings of Jesus Christ. We firmly believe Jesus Christ is 'the way, the truth and the life' and from his example we can live out our lives, fulfilling our God-given potential.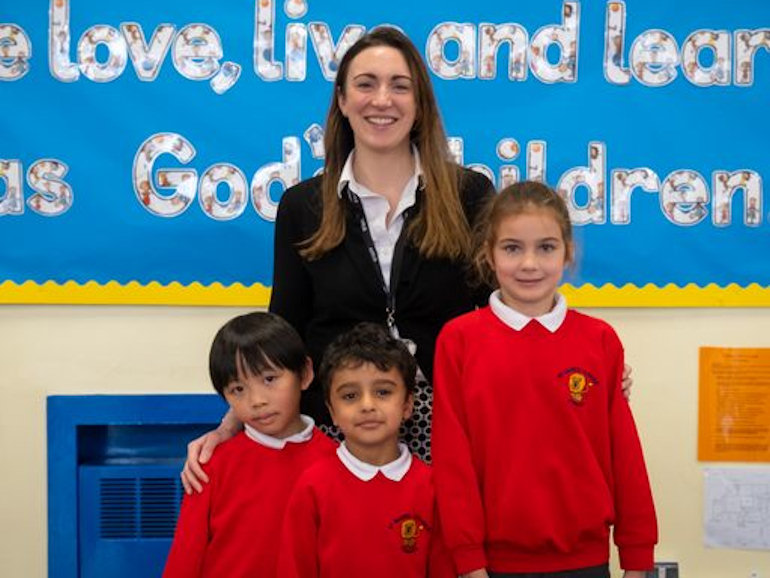 As the Principal of St. Mark's, I want nothing but the very best for ALL the children who attend school here. I have strong morals and values rooted in my Catholic beliefs, and I strive to ensure the children at St. Mark's not only receive a first class formal education but also a spiritual, moral, social, vocational and cultural one too.
We proudly and joyfully put our faith into action and create change in the world for the better through the catholic social teachings that are embedded and evident throughout our school. We are blessed at St. Mark's to have a very welcoming, caring and faith-filled school community that is diverse, inclusive and rich in love. We joyfully share our love with each other and remember the words Jesus told us; 'love one another as I have loved you'.
Living together as God's children, we love and serve each other, regardless of our faults or our differences.  We want every child to learn that they are capable of great things, and we want them to achieve academic excellence, in a community of faith. We want every child to feel prepared for their next phase of education, so that they confidently share their faith, their gifts, and the good news for the greater good.
I am very proud to work alongside a dedicated team of staff who are motivated and ambitious to support children, parents, each other and members of the school community in providing an excellent Catholic education for all our pupils. Our mission statement is at the heart of everything we do here at St. Mark's. I actively seek and engage staff, parents, children, governors and families to help promote a 'service to society' so that we can all serve and support our own, and each others' formation.
I hope this website gives you an insight into life at St. Mark's Catholic Primary School. Please do get in touch, if you would like further information, we would be happy to help.
Mrs Linley
Principal