Please ensure your child is dressed correctly in school uniform.
Winter
White polo shirt
Red jumper or cardigan
Grey/black trousers or skirt
Black shoes
Summer
White polo shirt
Red jumper or cardigan
Red checked dress and red jumper or cardigan
White polo shirt and black/grey trousers or shorts
Black shoes, not sandals please.
Trainers, boots or fashion shoes are not allowed.
Please ensure your child's uniform is labelled.
PE
For PE your child will need a pair of black shorts (jogging bottoms in Winter), red t-shirt and a pair of black pumps. Red jumpers can also be worn in Winter.
Unwanted Uniform
We keep a number of unwanted uniform items in school that have been either donated or gathered in lost property and have no name in. To support sustainability, we wash and keep a range of uniform items in school to help support any families who require uniform. We regularly send out updated lists of the unwanted uniform items we have accumulated to encourage parents to collect any uniform items from the school office.
If you require any support with uniform, please contact Mrs. Hussain in the school office.
Hair Styles
Hair shaving and sculpting (eg. Tram lines, ticks and other shavings) are not allowed. Hairstyles must be smart and neat (hair accessories must be minimal). All long hair must be tied back for safety reasons.
Jewellery
Earrings are not permitted to be worn in school for safety reasons.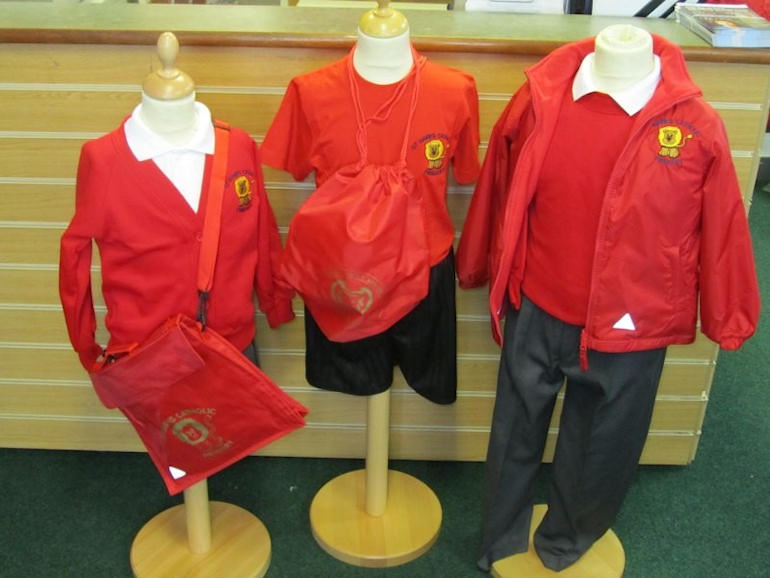 Examples of our school uniform
Suppliers of St. Mark's School Uniform
Uniforms Plus, Scott Arms Precinct, Walsall Road, Great Barr