Saint Mark is our school patron Saint. His feast day is the 25th April.
Mark lived at the time of Jesus. Although he was not one of the twelve apostles of Jesus, he was a cousin of Saint Barnabas, an apostle.
Mark is called an evangelist because he wrote one of the four gospels. Mark's gospel is short, but it gives many little details that are not in the other gospels.
While still young, Mark went with the two great saints, Paul and Barnabas, as missionaries to bring the teachings of Jesus to Cyprus and other new lands.
Before the journey was over, though, Mark had an argument with Saint Paul and immediately returned to Jerusalem. Paul and Mark later made peace with each other. In fact, Paul wrote from prison in Rome that Mark came to cheer and help him.
Mark also became a beloved disciple and was like a son to Saint Peter, the first pope.
Saint Mark was made a bishop and sent to Alexandria, Egypt. There many people who heard him preach became Christians. He worked hard to spread love for Jesus and his Church and founded the first famous Christian school in Alexandria.
He went through long and painful sufferings before he died a martyr for his faith. Saint Mark's relics were brought to Venice, Italy. He is the patron saint of that famous city. People go to the beautiful basilica of Saint Mark to honour him and to pray to him.
Every year we celebrate St. Mark's Feast Day with our whole school community.
Reflection: "Go into all the world and preach the gospel to the whole creation." (Mark 16:15).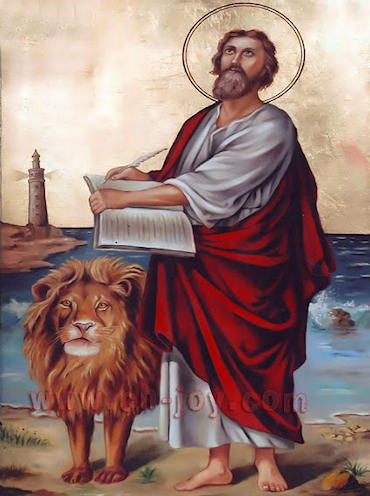 Celebrating the Saints
Throughout the year, we celebrate a range of saints in school. Each year we have a focus on different saints to allow our children to learn about our heavenly role models. The saints we learn about reflect our diverse school community and our values, gifts and talents. Our school mission teams suggest new saints for us to learn about as well as our Year 6's as part of their Confirmation preparations.
For 2023/24, our Catholic Life Leaders decided to focus on saints who demonstrate our Catholic Social Teaching. Here is the table they created showing the saints they chose (which go alongside the other saints we learn about):
House Saints
Children in all classes are split into four house groups, named after the following Saints:
Saint George
Saint Patrick
Saint Andrew
Saint David
Children are grouped into these house saints and work together as a team to earn house points. They are awarded for various accomplishments such as good work, helpfulness, special effort and achievement.
Various competitions are held during the year, such as Sports' Days and other challenges, when children work in house teams to earn even more points.
Saint George is best known for being the patron saint of England. He showed bravery and courage for believing in God.
He is also the patron saint of Aragon, Catalonia, Ethiopia, Georgia, Greece, Lithuania, Palestine, Portugal, Russia, Amersfoort, Beirut, Bteghrine, Caceres, Ferrara, Freiburg, Genoa, Gozo, Pomorie, Lod and Moscow.
Saint George's story is so full of mystery that it's hard to tell if it's a legend or a myth. The image of Saint George is that he is traditionally dressed in a white tunic with a red cross on the front. He is usually seen with a white horse.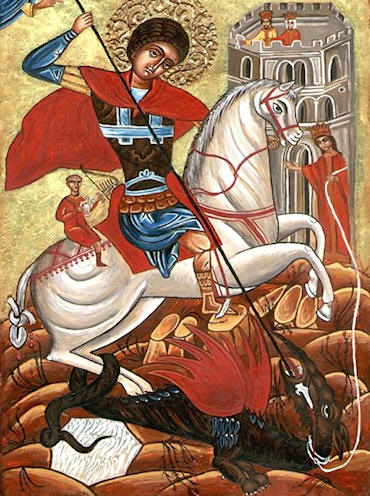 Saint Patrick was born in Great Britain during the 4th century. He was kidnapped and enslaved by Irish raiders when he was a teenager.
Although he was able to escape after six years and become a priest back in Britain, he chose to return to Ireland some years later to become a missionary. He wanted to help spread the teachings of Christianity to pagans.
Saint Patrick worked hard in Ireland despite the fact that pagan leaders did not want him there. He was not easily stopped and continued to teach people about Christianity for thirty years. He converted many people into Christians and promoted the building of schools, churches and monasteries.
Saint Patrick died on 17 March and was made a saint by the local church. He became the Patron Saint of Ireland. Saint Patrick's Day is celebrated around the world but especially in Ireland.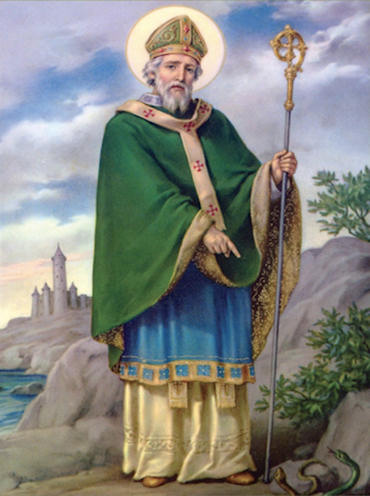 Saint David was born in Wales in 500AD. He died in 580AD. He has been the patron saint of Wales since the 12th century.
The most famous story about Saint David tells how he was teaching a huge crowd about Jesus and he stood on a hill so the people had a better chance to hear him.
Saint David's Day, 1 March, has been here since the 18th century. On that day, many people wear a daffodil which represents Wales. Children enjoy traditional welsh dances and have fun.
His mother was a saint and his teacher was one too. David was a Celtic monk and Bishop. During his life, he was the Archbishop of Wales and he was one of many early saints who helped to spread Christianity among the Celtic tribes of Western Britain.
Saint David's flag has a black background with a yellow cross. On Saint David's Day, children dress in their national costume which is made up of a tall black hat, white frilled cap and a long dress.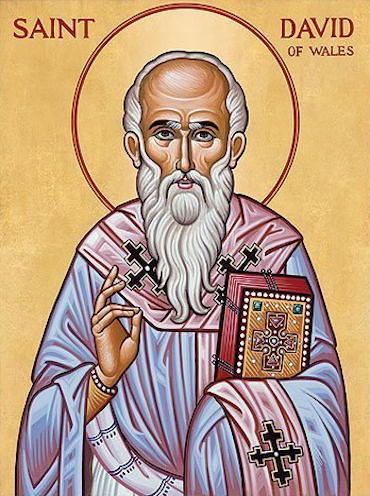 Saint Andrew was a Galilean fisherman whose name means 'strong' and his feast day is celebrated on 30 November.
He was the brother of Saint Peter and became a Christian after Jesus called him.
Saint Andrew was one of the twelve apostles of Christ.
Saint Andrew is the Patron Saint of Scotland, Greece and Russia. There are approximately 450 churches in England named after Saint Andrew.